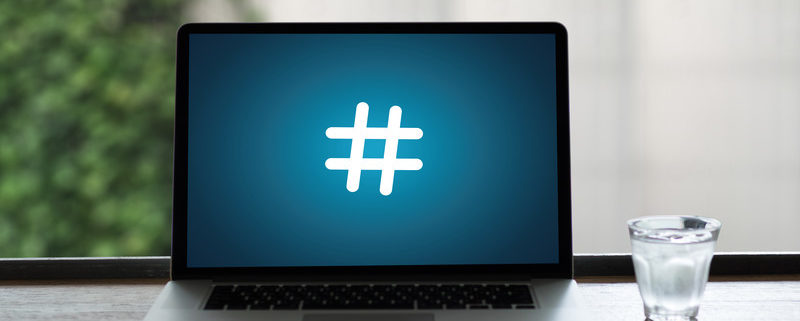 by Patricia Bleck
Are you confused about the value and use of hashtags for business? I am crazy about their simplicity and power and I use them every day. Hashtags help people to find posts about the topics that interest them. Your brand can use them to connect with your target audience. You may even be able to take your social media content to the next level.
How do Hashtags Work?
Hashtags connect your brand with others who are speaking about the same topic. When people search using a common hashtag, they will see the tagged content that addresses the same topic. For example, I often utilize #socialmedia in my posts. Others who follow or search for #socialmedia will see my tagged content. If you use hashtags, you will expose your content to a wider audience. Nice, right? This may lead to conversations and additional connections with your brand's audience.
Do Hashtags Benefit my Business?
Your business is on social media so you can grow brand awareness and connect with others, right? If that is a given, consider that you can use hashtags to expand the number of people who see your content. That alone is a good argument for using hashtags. Also, hashtags can help you to discover others who are talking about the topics that impact your business. Connecting with them may be of value to your brand. Even if your business is already active in the social space, you can improve results by simply adding relevant hashtags to your posts.
How do Businesses use Hashtags?
There are many ways that businesses can take advantage of hashtags.
Let's try finding relevant content via search. For example, a landscape architect can enter #garden in the Facebook search bar to discover many posts that relate to their business. For instance, they may find this nice post from House & Garden Design Magazine on Facebook because it includes the hashtag #garden.
Once you search by hashtag and view the results, you can follow up by connecting and interacting with companies and individuals who may positively impact your business.
You can also create your own optimized posts. Some platforms, like Twitter and Instagram, are naturals for hashtags – your brand will see results immediately. Place the number symbol in front of the word or string of words (no spaces in between words!) to create a hashtag in your post. Be sure to use terms that actually relate to what you are discussing. Take advantage of seasonal topics, like holidays. Seasonal topics apply to so many people and they are shared by a large audience. For example, a manufacturer of ornaments may get Christmas shoppers to take notice of their products by using #ChristmasDecor or #ChristmasTree. Do the research to see what tags are trending or evergreen.
One cautionary note: Don't throw random hashtags into your post, unless you're absolutely sure your audience gets the joke. Otherwise, random hashtags may just confuse most people.
My rule of thumb on Instagram is to use 1-2 primary hashtags in the initial post. Then we follow up by placing additional hashtags in a post comment. Another approach is to add 5 separate lines with one dot on each line just below the post text.  After the 5 lines, we add 10-15 additional hashtags.  In the image below, you can see how Pet Factory, Inc. separates the main post text from the hashtags.
You can include additional hashtags to add subliminal meaning. Descriptive hashtags may enhance a social media post and speak to a specific audience. For instance, #blessed and #TBT are two enhancing hashtags that I see frequently.
Did You Know? Once you use a hashtag on Instagram, you can tap on it to see related photos and videos uploaded by others.
Announce News
You can include hashtags in your posts to enhance important announcements. They are commonly added on Twitter to announce important news and to unite niche communities. Many couples announce that they are tying the knot with #gettingmarried. Law students tweet about the upcoming #barexam. Politicians use hashtags to announce their candidacy for office. Brands use them to announce new products, services, personnel, and business results.
Create Awareness
Your organization can use hashtags to gain attention and organize group members. Activists utilize hashtags to build awareness around issues near and dear to their hearts. The Me Too movement garnered attention for sexual assault awareness.  When social media users included the same hashtag (#metoo), the campaign went viral. Their efforts garnered the attention of Twitter users and the world.

How do Businesses Choose Hashtags?
Businesses choose hashtags that benefit their brands, campaigns, and relationships. Are you creating a social media campaign? You might want to do a little research around your brand's chosen topic to see which hashtags are already being used. Spend time looking for hashtags that are commonly used in your industry. For instance, physicians will find #doctor, #health, #healthcare, and #HealthyAging are common hashtags in the healthcare industry.
You can create your own hashtag based on your company tag line, special event, or promotion. In fact, I suggest you do! Don't miss out on an opportunity to promote your brand. It's really easy to create and use a brand-specific hashtag. As an example, Rotary International uses the hashtag #PeopleofAction in many of their communications. This hashtag very clearly expresses the organization's mission.
If you want to converse with people in a specific geographic area, hashtags are a great way to connect. Check Twitter to see what is trending in your area. You can even search by city. Last summer, the music festival #lollapalooza was in Chicago. Promoters, attendees, vendors and media used the event hashtag to connect. Before attending a trade show, find out the event hashtag and use it in your communications to connect with others who will attend the event.
Other hashtags like #mondaymotivation are popular throughout the US. General hashtags like this may not focus the conversation sufficiently, but that may be okay for your purposes. Go ahead and play with it – it's fun to experiment with hashtags to see what works.
Exploit the Power of Hashtags!
Hashtags help people to find posts about the topics that interest them. Use the power of hashtags to enhance your posts and make your brand's social media communications even more effective. For more helpful information on hashtags, visit Twitter, Facebook, and Instagram. Call me with any questions at 224-628-0199.
http://www.bleckconsulting.com/wp-content/uploads/2017/09/BC-2017-HashtagBlog.jpg
537
800
Patrica Bleck
http://www.bleckconsulting.com/wp-content/uploads/2017/08/bleck_consulting_logo.png
Patrica Bleck
2015-12-04 14:57:22
2019-03-20 21:28:19
Hashtags Mean Business